• Marjorie Baer Sale • MB SF • Sample Sale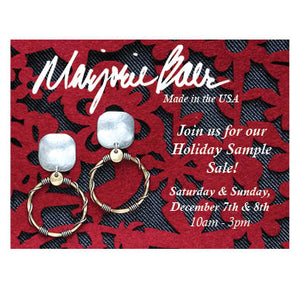 Join us Saturday and Sunday, December 7th and 8th from 10am to 3pm at our shop: 1389 Lowrie Ave, South San Francisco, CA 94080
---
• clip on • Clip on Earrings • earrings • Made in the USA • MB SF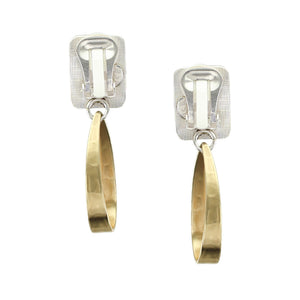 Marjorie has mastered the art and craft of making comfortable clip earrings. A lot of thought and design goes into making sure that Marjorie Baer clip earrings are comfortable enough to wear all day.
---
• classic • Clip on Earrings • everyday earrings • handmade • Made in the USA • Matching sets • MB SF • Metal Colors • Mixed Metal • Necklaces • New Collection • Styling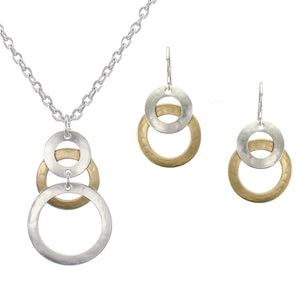 A lot of customers are interested in purchasing matching sets of earrings and necklaces - particularly when they are putting together a gift or going to an event. Marjorie Baer collections are often made of several different groupings that play on a theme and are intended to match. Here are some matching sets from our newest collection: This set is a perfect example of pieces designed to match. The overlapping brass and silver rings are a great pairing with this necklace as either a wire earring (as shown above) or a clip on earring (as seen below).    Here is another...
---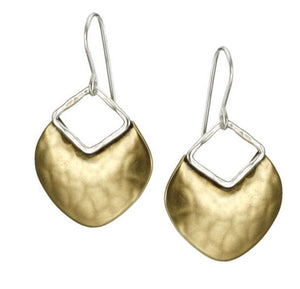 Marjorie takes a moment to answer some questions and reflect on her design process. First up, what is cloud texturing? I've always been enchanted by those ethereal shapes that Joni Mitchell sang about. As a little girl I doodled clouds, fascinated by their infinite variety and constant change. Years later this awareness and appreciation of the natural environment inspired me to create a technique I call cloud texturing. I use smooth, rounded hammers and pound the metal to create a finish reminiscent of that wispy asymmetry I've always loved.     Over the years the necklace and pair of earrings pictured...
---
• Made in the USA • Marjorie Baer Sale • MB SF
We've got a couple of exciting events coming up this December that we'd like to announce.  Marjorie Baer Sample Sale The Marjorie Baer Holiday Sample sale is going to be December 12th and 13th - that's Saturday and Sunday from 10am to 4pm. As usual, there will be great deals on a wide variety of Marjorie Baer earrings, bracelets, necklaces, rings, and belts. It's a great opportunity to stock up on gifts for your friends, family, co-workers, and maybe even something for yourself! This sale is held in our South San Francisco office and studio. Marjorie and I will be there...