• classic • Clip on Earrings • everyday earrings • handmade • Made in the USA • Matching sets • MB SF • Metal Colors • Mixed Metal • Necklaces • New Collection • Styling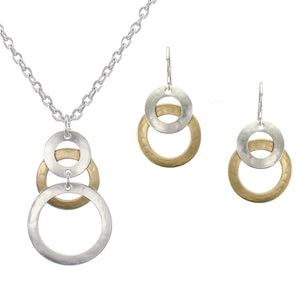 A lot of customers are interested in purchasing matching sets of earrings and necklaces - particularly when they are putting together a gift or going to an event. Marjorie Baer collections are often made of several different groupings that play on a theme and are intended to match. Here are some matching sets from our newest collection: This set is a perfect example of pieces designed to match. The overlapping brass and silver rings are a great pairing with this necklace as either a wire earring (as shown above) or a clip on earring (as seen below).    Here is another...
---
• Clip on Earrings • Fall 2015 • Made in the USA • MB SF • New Collection • Post Earring • Wire Wrapping
I'm so excited that our Fall 2015 pieces are finally up on our online store! I really love this collection - I had so much fun photographing it, writing descriptions, and adding it to our online selections. I especially love the wire wrapped pieces; they have a super fresh yet rich textured look. Its been a lot of fun seeing all the metal color variations on the wire wrapped pieces. The metal color combinations (which metal color is used for the base piece and which for the wire-wrapping) really change the overall feel of the earring.  Wire Wrapped Segmented Oval Earring: I...
---
• Bangle Set • Clip on Earrings • Fall 2015 • Made in the USA • New Collection • Post Earring • Wire Earring • Wire Wrapping
       I'm excited to show off the latest from Marjorie Baer! This new collection is bold, full of texture, and sprinkled with industrial touches.  The first grouping is a fresh take on Marjorie's signature wire-wrapping technique. The wire-wrapping up to now has been silver wire over a brass piece. This group switches that around and the result is super fresh and bright but with the same richness from the traditional wire-wrapping.  Here are some highlights: This gorgeous Wire Wrapped 5 Piece Bangle Set has so much great texture, both from the hammering and from the neat sections of wire wrapping. ...
---
• Holiday 2014 • Made in the USA • MB SF • New Collection
  We are extremely excited about this new, globally inspired collection. Its unique and interesting with cool patterns, layered with unique shapes and details. These pieces are easy to wear, to mix and match, and to dress up or down. And we think there's really something for everyone in here. There's a beautiful variety of wire, clip on and post earrings, cuff and bangle bracelets, and statement necklaces in tons of styles.  Check it out and let us know what you think!
---
• behind the scenes • Delicate • Made in the USA • MB SF • Necklaces • New Collection
Had so much fun shooting pieces for the transition collection with Ariana!