• classic • Clip on Earrings • everyday earrings • handmade • Made in the USA • Matching sets • MB SF • Metal Colors • Mixed Metal • Necklaces • New Collection • Styling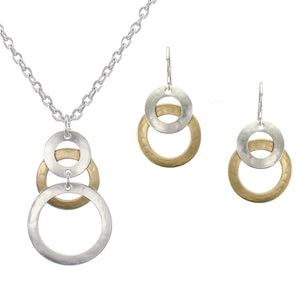 A lot of customers are interested in purchasing matching sets of earrings and necklaces - particularly when they are putting together a gift or going to an event. Marjorie Baer collections are often made of several different groupings that play on a theme and are intended to match. Here are some matching sets from our newest collection: This set is a perfect example of pieces designed to match. The overlapping brass and silver rings are a great pairing with this necklace as either a wire earring (as shown above) or a clip on earring (as seen below).    Here is another...
---
• behind the scenes • Delicate • Made in the USA • MB SF • Necklaces • New Collection
Had so much fun shooting pieces for the transition collection with Ariana!
---
• from the archives • MB SF • Necklaces • Vintage Marjorie Baer
We came across this great collar necklace in the archives. The color and texture of the metal is really gorgeous. The shapes are modern and sculptural.
---
• Layering • Necklaces • Styling
Sweet leopard collared shirt with the layered leaf bar necklace
---
• Delicate • Layering • Necklaces • Styling
I really like the look of delicately layered necklaces. It not only looks cool but its a great way to re-purpose items you already have. You can really start to see your necklaces in a different light: as part of a group instead of just a stand alone piece.     For this group, we combined different styles and lengths of chain but we kept the colors consistent in bright silver and black onyx. A good way to start is to find a short, medium and long necklace that have something in common, whether its color, metal color, or gemstone color....