• Marjorie Baer Sale • MB SF • Sample Sale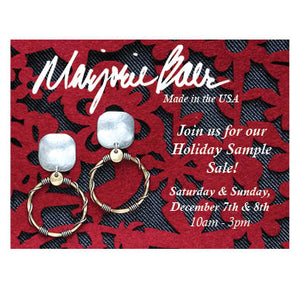 Join us Saturday and Sunday, December 7th and 8th from 10am to 3pm at our shop: 1389 Lowrie Ave, South San Francisco, CA 94080
---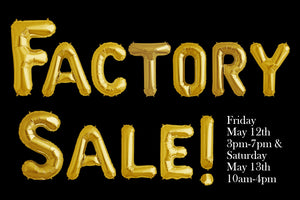 Spring Factory Sale - May 2017 We've got a two day sale coming up next month! We're changing things up a bit this time - The sale will start Friday evening and run all day Saturday.  As usual we will have a great variety of earrings, necklaces, rings, and bracelets - all at wholesale prices and below. We hope you can make it! We'll also have an online component for folks outside of the Bay Area. Our online flash sale will start Friday the 12th and run through Sunday May 14th. 
---
• Made in the USA • Marjorie Baer Sale • MB SF
We've got a couple of exciting events coming up this December that we'd like to announce.  Marjorie Baer Sample Sale The Marjorie Baer Holiday Sample sale is going to be December 12th and 13th - that's Saturday and Sunday from 10am to 4pm. As usual, there will be great deals on a wide variety of Marjorie Baer earrings, bracelets, necklaces, rings, and belts. It's a great opportunity to stock up on gifts for your friends, family, co-workers, and maybe even something for yourself! This sale is held in our South San Francisco office and studio. Marjorie and I will be there...